Engraving Services
Easy. High quality. Customized. That's what you can expect from Mars Electric's engraving services. We carry the electrical supply materials and have the technology to engrave your message on a few to thousands of items. We offer the colors, sizes, materials, finishes, and graphic design services you need. It's a one-stop-shop.
While we're a leading electrical supply distributor in our region, we serve clients with engraving needs across the country and ship anywhere in the U.S.
Wide variety of applications
We offer engraving solutions for a wide variety of applications, including industrial, manufacturing, healthcare facilities, schools, and commercial and residential construction and remodeling.
Transparent lead times
Your dedicated Mars Electric sales representative will work with you to understand your project timeline. While lead times vary by the order size and complexity of the customization, we will do everything we can to ensure you have your engraved materials on the jobsite when you need them.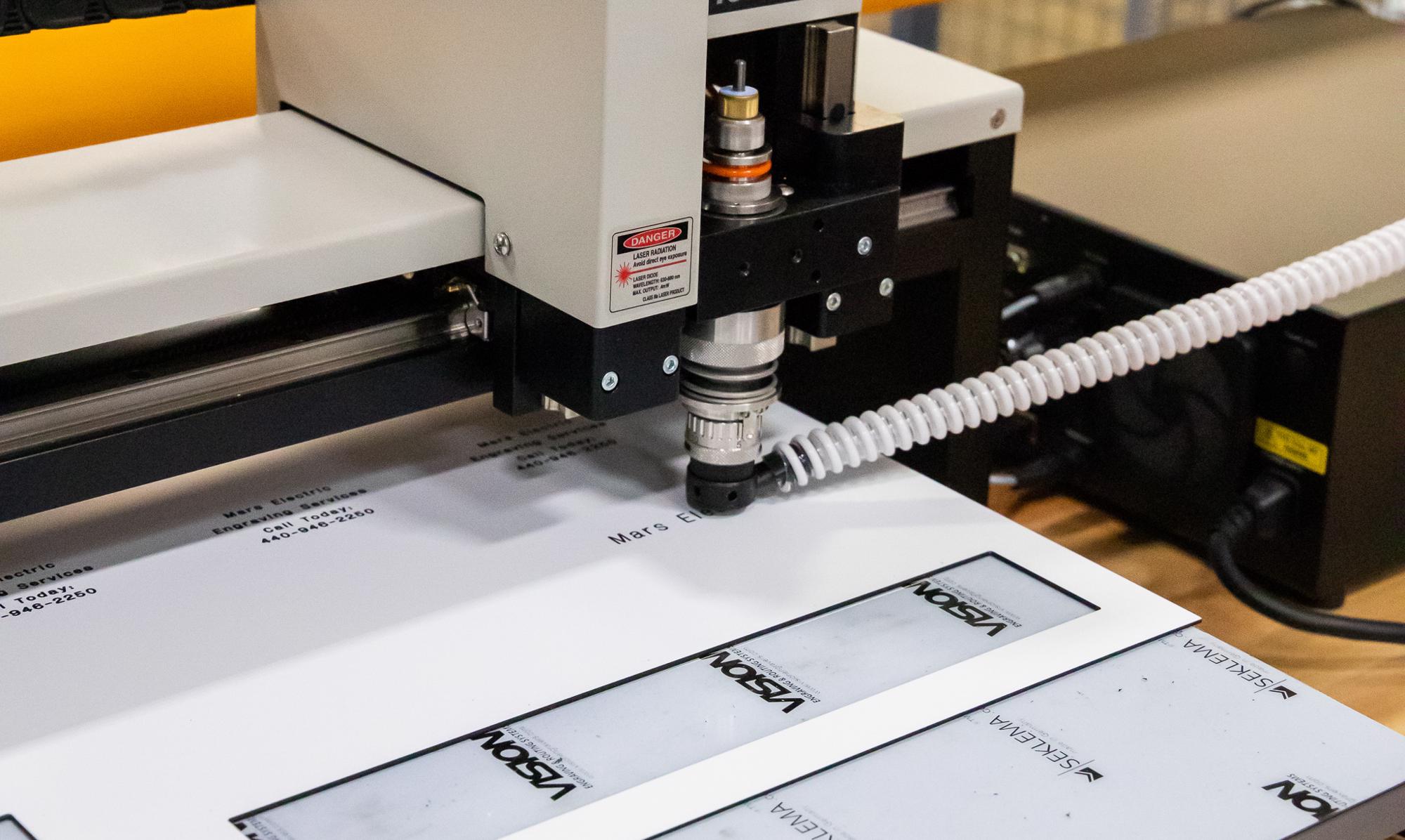 Customized, high quality engraving
We deliver high quality branding and graphic design services so whatever material you engrave, from stainless steel to plastic to aluminum, it will display your message clearly and attractively. Need the same thing engraved on many items or a different message per material? Our experienced engravers are able to accommodate your custom needs.
Easy ordering process
You'll work with a dedicated Mars Electric specialist to make sure the end product lives up to all of our high quality standards. The process is easy. You send us a file of the artwork and we upload it to our engraving machine so the output is exactly what you want. We're happy to provide proofs to ensure the quality of the end product.
One-stop-shop
Buying the materials you need and having them engraved all at Mars Electric means you save time and hassle. There's no transporting materials to be engraved. No establishing a relationship with a new service provider. Our customers work with their existing sales representatives to see their engraving projects through completion.
Need the final, engraved product sorted by floor or location? Just provide us with where and how you'd like the product to be delivered, and we'll sort it according to your specs.
Variety of materials
Plastic
Stainless steel
Cover plates
Wall plates
Popular colors
Black on white
White on black
Yellow on black
Red on white
White on red
Contact your sales representative when you have your next engraving project or call (440) 946-2250.